Regular price
$69.90 USD
Sale price
$64.90 USD
Unit price
per
Sale
Sold out
Share
Theengs Bridge - Your Central Bluetooth Gateway
Powered by OpenMQTTGateway, our Bluetooth Bridge is compatible with over 80 sensors and integrates with Home Assistant, OpenHAB, Jeedom, NodeRed, and other MQTT-compatible systems.
Key Features:
External Antenna: Equipped with a 2.4GHz 6dBi antenna, ensuring strong signal reception and reliability.
Ethernet or WiFi connectivity: Use either Ethernet, WiFi, or Ethernet with WiFi backup.
Adaptive Scanning: BLE scanning parameters adapt automatically based on the devices in your space.
Auto Discovery: Home Assistant MQTT convention auto-discovery ensures BLE devices are automatically detected and set up with various SmartHome solutions.
Over-the-Air Updates: Keep your device updated effortlessly.
Power Supply
USB-C 5.0V

Microcontroller
ESP32
Memory
8MB
WiFi Band
2.4 GHz
Protocol
MQTT
Ethernet

RJ45

Antenna


2.4GHz 6dBi 50ohm Wireless Antenna

LED

4 RGBs

Board type

Development Board

Dimensions

4.05in * 1.37in * 2.4in

160 × 120 × 30 mm (without antenna)
FAQs:
What is the warranty period?
The Theengs Bridge hardware warranty lasts for one year from the purchase date. See detailed warranty information here.
Does the bridge require internet access?
The bridge checks online for firmware updates but can operate without relying on cloud services (unless specifically configured to connect to one).
Can Theengs Bridge operate on WiFi?
Absolutely! Set up a WiFi Access Point during the onboarding process, input your password, and it will default to WiFi if no ethernet connection is available.

Do I have to pay customs/VAT taxes?
Yes, if you are located outside of the US, you will have to pay the customs and taxes related to your country.
Prerequisites:

Ensure you have an MQTT broker. A basic understanding of MQTT is recommended.
5V USB C Power Supply if you choose the variant without
Licensing: The bridge firmware is licensed under GPLv3. By using this product, you agree to the terms and conditions of this license.
User guide: https://tbridge01.theengs.io/
View full details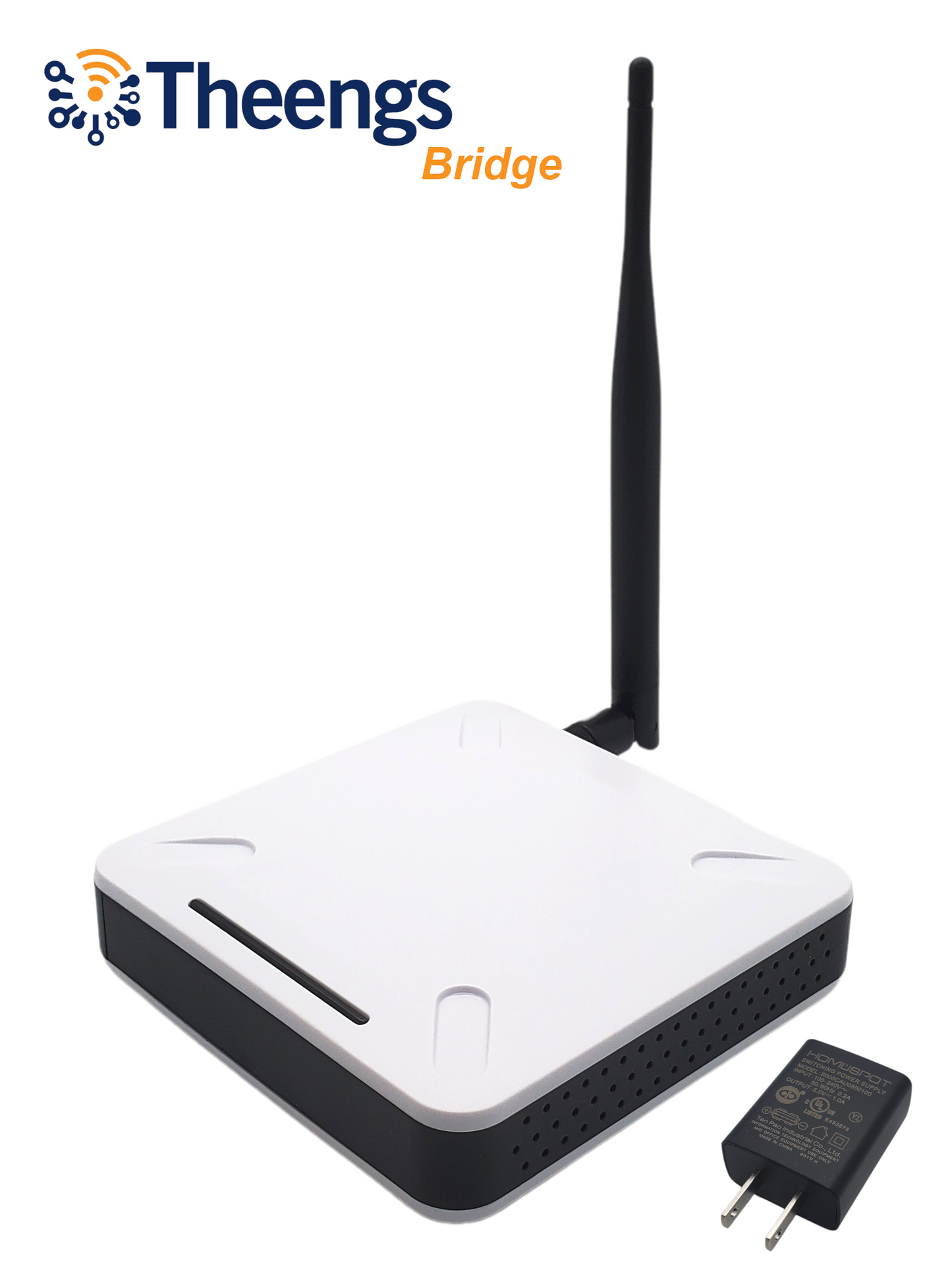 Great bluetooth bridge for Home Assistant
I needed a bluetooth bridge for Home Assistant which I could place closer to the car than my HA server. This device worked like a charm.
The only thing I wish is that it had PoE so that I could run just one cable to the device. (you can have just one cable, but that would be USB-C as power supply and then use WiFi instead of the Ethernet port, but I like cable Ethernet for its reliability)